Munich Security Conference 2020: A Reflection of Relations Crisis in the West
The Munich Security Conference 2020 was held under the topic "Westlessness in the West", amid disputes between the U.S. and European powers and the increased pressure on the continent due to the state of conflict and competition between the United States, China, and Russia. Hence, this article provides an overview of the Western scene, primarily a reading of U.S.- European relations and challenges facing the security community.
by STRATEGIECS Team
Release Date – Feb 19, 2020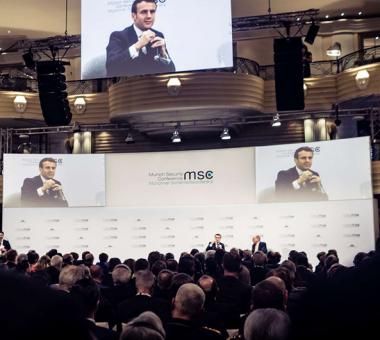 The Munich Security Conference is a key conference on security policy in the world that is is held annually in Munich, capital of Bavaria, bringing together top international decision-makers, including more than 30 heads of government and states and around 100 ministers.
Initially, the Munich Security Conference represented a western "family reunion", which later expanded to encompass the broader international communities and to examine current global issues around the world. However, this year's conference takes place amid tensions in the West between the United States and Europe, under the title "Westlessness in the West"; this comes as an attempt to describe the dual phenomenon of widespread notion that the West and the world are developing in a direction with less interest in the West, losing of transatlantic values and the security community.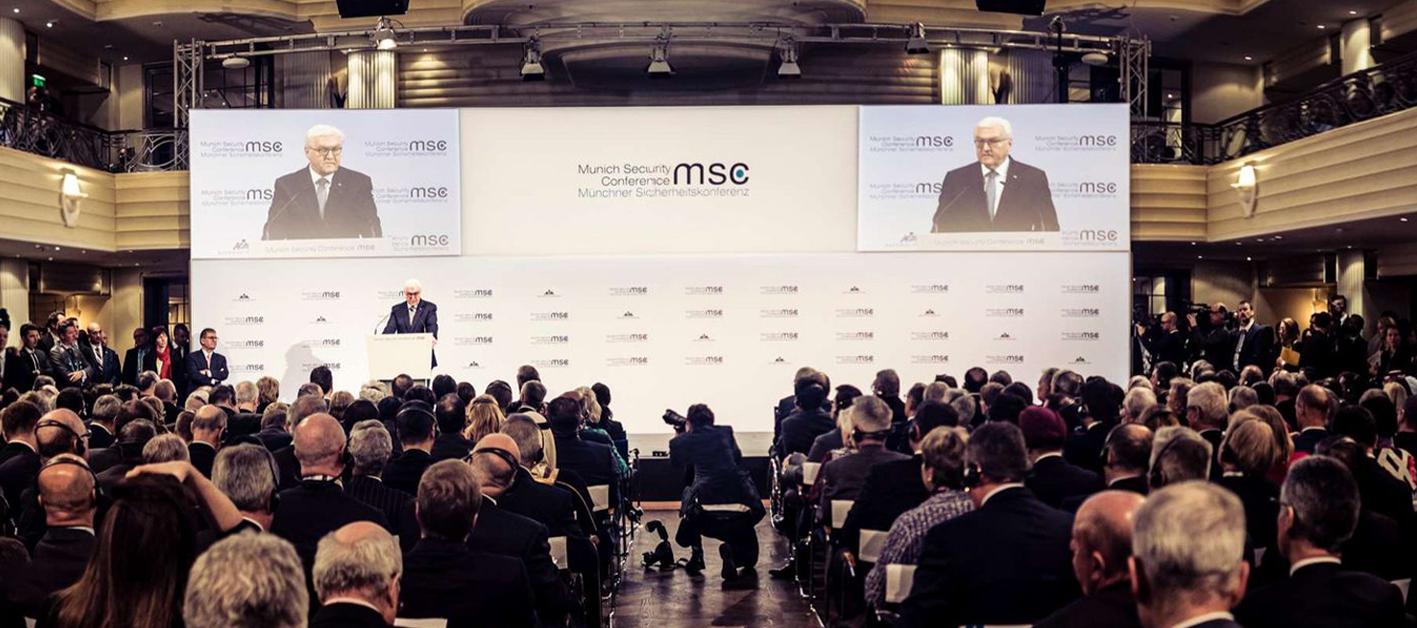 In this context, the conference reflects a growing state of division in transatlantic relations and post-Cold War world order, and more concerning is Europe's belief that the U.S. has given up its obligations to Europe and forgone the very essence of the transatlantic alliance itself. With consecutive speeches, European leaders expressed their disappointment for what they perceive as U.S. disengagement from the region and the entire world. For instance, in his opening speech, German President Frank Steinmeier criticized Trump's slogan "America first", adding that: "it shook the global system and fueled insecurity in an unstable world". Likewise, French President Emmanuel Macron noted that: "there is an American policy that started years ago, not under the current administration, which involves a kind of regression and reconsideration of its relationship with Europe".
In reality, a series of Trump's decisions evoked several European concerns, as they were considered hostile to the U.S. NATO allies, including withdrawal from the Iranian nuclear deal, which affected many European companies and subsequently yielded a loss of billions of dollars of contracts. Trump's unexpected decision in October 2019 to withdraw U.S. forces from Syria without prior notice his allies raised questions regarding Europe's next steps in dealing with the heightened level of chaos and instability in the region. In his interview on July 15, 2018, with CBS News, Trump was asked to identify his current biggest foe, to which he answered: "I think we have a lot of foes. I think the European Union is a foe", in a reference to current trade tensions between the U.S. and the European Union.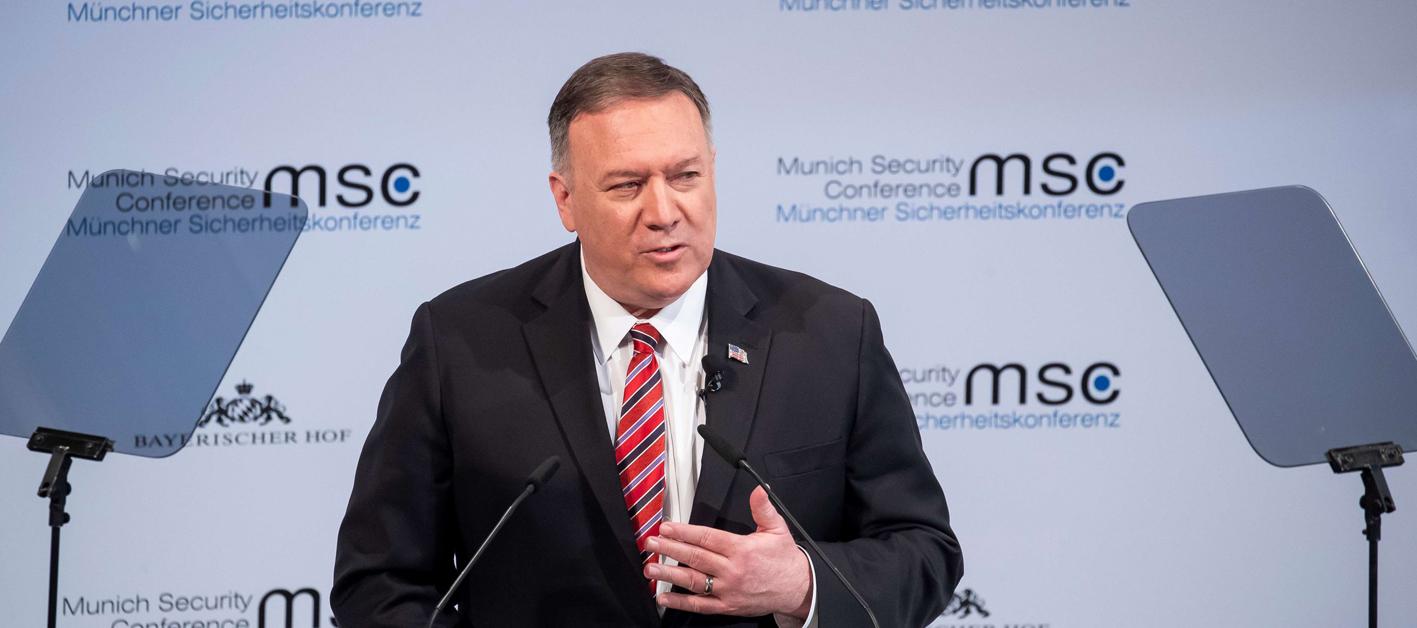 As such, Secretary Mike Pompeo's statement "the West is winning - and we're doing it together" might not provide the needed assurance to Europeans, as this announcement was followed by another point of conflict between the U.S. and Europe, namely China. Therefore, State Secretary devoted the second half of his 16-minute speech to address China, noting that other countries should regard it with more fear as he believes that other countries should be more fearful of its presence. In line with this notion, Secretary of Defense, Mark Esper, emphasized that Washington deems China an evil power in the world, a perspective many E.U. countries denounce, as the two countries have different attitudes when it comes to China. On March 26, 2019, France, Germany, and the European Commission requested a more balanced partnership between China and Europe that is based on "trust" and "reciprocity", calling for a "renewed" versatility. This was a result of what Europe regards as an absence of the U.S., which is increasingly taking more unilateral stances.
Similarly, additional voices emerged at the conference in a call to pursue a communication policy with Russia; in his opening speech, President Steinmeier stated that: "Western countries need a better relationship with countries like Russia", aligning with French President Emmanuel Macron who addressed the failure of the European policy in challenging Russia, adding that: "the only option is moving towards a closer dialogue with Moscow to resolve disagreements." As such, European leaders believe that pursuing such a policy will reduce Europe's reliance on the U.S., moving away from areas of tension and conflicts. Yet, this is not as easy, given Russia's status as a major geopolitical challenge as it has become increasingly active in recent years; Russia is evoking a war in Ukraine, annexing Crimea, is accused of assassination attempts against opposition figures on European soil as well as of carrying out cyber-attacks on Western targets. Nonetheless, the U.S.  rejects such a rapprochement; this was evident in its imposition of economic sanctions on the "Nord Stream 2" pipeline, which directly extends from Russia to supply Germany with gas, as the U.S. believes this would increase EU's dependency on Russian gas, constituting a great threat to Europe and the West in general.
Like the Transatlantic, the common security community in Europe is facing growing dilemmas that hinder its ability to offer a coherent geopolitical strategy or even speak in a unified voice. The continent is in a state of division due to Brexit and increased spiritual division as well as a rising nationalist camp that rejects liberal internationalism, perceiving nationalism as the only way to protect states' sovereignty. In this context, these divisions deepen Europe's mal-functionality and geopolitical vulnerability to small and large-scale issues. While Western politicians continue to believe that there are no military solutions to political conflicts, their reluctance to interfere early in the Syrian crisis alleviated Russia's role in other issues. On the other hand, the influx of millions of Syrian, as well as Libyan refugees, increased pressure on European countries, hence the Berlin Conference on Libya which was held on January 19, 2020, in which Europe attempted to emphasize its ability to act. Nevertheless, some believe that the conference was another channel to further mal-functionality as the conference ultimately failed and the fighting continued, all while Russia and Turkey were working more decisively. If Russian-backed General Haftar succeeds in his attempts to take control of Tripoli, then Moscow will gain significant influence over the flow of refugees and energy to Europe, and these are just a few examples of the recent declining European role.Finally, the Munich Security Conference was a symbol of the Western Alliance power, but the 2020 version provided an evidence of the split in this alliance. While the 3-day event was focused on reconsidering the Western project, it clarified that the difference between the United States and the dominant European powers -Germany, France, and the United Kingdom- has become greater than ever, making setting a transatlantic agenda to respond to the rise of China and Russia extremely difficult, and perhaps impossible.
Therefore, the continent has become increasingly strained between the United States, China, and Russia; Russia continues its incursion in Ukraine and sustains its intervention in Syria and Libya, whereas the Chinese influence extends systematically to the continent, whether through vital infrastructure projects in southeastern Europe or acquisition of companies in the west. Today, the West must accept that it is just one of many poles in the global security environment.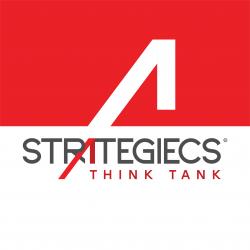 STRATEGIECS Team
Policy Analysis Team