Sri Lanka Attacks: Terrorism on the Basis of Sectarian and Ethnic Conflict
This article looks into "high-tech" and "advanced" terrorist attacks in Sri Lanka amid internal sectarian divisions and discusses why Sri Lanka is considered an incubating environment for terrorism.
by Hazem Salem Dmour
Publisher – STRATEGEICS
Release Date – Apr 28, 2019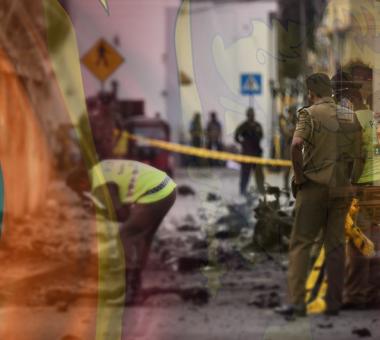 After nearly 10 years since the Sri Lankan civil war ended, the country has been enduring advanced terrorism in terms of tactical operations, planning, and coordination. The Sri Lankan long-established National Thowheeth Jama'ath (NTJ) has carried out eight terrorist attacks at close intervals, targeting a church on Easter Sunday and luxurious hotels in Colombo, Negombo, Kochikade, and Batticaloa. Three improvised explosive devices (IEDs) were found near Bandaranaike International Airport and other vital institutions; however, they failed to explode. The inconclusive death toll reached more than 320 victims with around 500 injuries, 31 of which were foreigners.
Governmental Announcement
The preliminary investigations have revealed that the incident in Sri Lanka was in retaliation for the attack against Muslims in Christchurch on March 15, 2019, in New Zealand, according to a statement by Sri Lankan State Minister of Defense Ruwan Wijewardene on April 23, 2019.
On April 22, 2019, AFP reported an alert 10 days before the attack through which Sri Lanka's Police Chief Pujuth Jayasundara warned that a foreign intelligence agency reported that the NTJ is planning to carry out suicide attacks targeting prominent churches and the Indian high commission in Colombo.
Sri Lanka in the Context of Countering Terrorism
During the country's civil war in 1983–2009, Liberation Tigers of Tamil Eelam group (LTTE) carried out several "suicide" attacks, but they were not as wide and influential as this attack nor did they have an advanced operational level. Hence, the April 2019 attacks posed a challenge to the government as it is the most dangerous of its kind over the past 10 years.
Sri Lanka has been suffering from ethnic divisions and sectarian-based violence for a long time; conflicts mostly arise between the two majorities, the Sinhalese Buddhists and the Tamilians, whereas the Muslim minority, constituting only 10% of the 21 million population, are living between these two powers. This minority endured persecution by LTTE during the civil war on one end and was forced to live with the rising Buddhist nationalism of Sri Lanka on the other. This forced a state of isolation, extremism, and the willingness to resist marginalization. Even though this was not translated into intense violence against other parties, it contributed to forming an extremist mindset that can carry out terrorist attacks whenever the opportunity prevails. This explains why NTJ –the group accused of the attack– was motivated to build relations with Al-Qaeda and later pledging allegiance to ISIS, as declared by the organization itself. It is believed that the NTJ alone would not be able to execute such an attack.
Preliminary investigations and analysis reports of Sri Lanka's attacks indicate an advanced technological level in the manufacturing of IEDs and planning of operations. Undoubtedly, the attackers could have received assistance from outside Sri Lanka through Al-Qaeda or ISIS, particularly through Sri Lankan and non-Sri Lankan returnees from battlefields in Iraq and Syria, who were able to settle in Sri Lanka, according to security reports. Sri Lankan governmental reports indicated that 32 nationals have traveled to Syria to join ISIS at the onset of the crisis in 2011-2012, but other security estimates suggest significantly higher figures.
Reports citing the concentration of ISIS fighters in Sri Lanka after the crackdown on the organization in the Middle East are stressing a shift in NJT's mindset and approach; their activities were previously exclusive to hate crimes and racist incidents against Buddhists as some of their leaders were prosecuted in 2017 for charges of mockery of Buddhist statues and wounding the religious feelings of Buddhist society.
As early as three years ago –coinciding with NJT pledge of allegiance to ISIS–, Muslim Council's Vice President Hilmi Ahmed warned Sri Lankan authorities that the NJT group is seeking to target non-Muslim communities and kill them in the name of religion.
Why Sri Lanka?
1. Sri Lanka lacks adequate expertise in fighting terrorism. Despite previously dealing with LTTE, the advancement of today's tactics of terrorist organizations is surpassing government capacities.
2. Sri Lanka is an incubating environment of violence and terrorism for its ethnic and religious components.
3. Security and intelligence systems of Sri Lanka are suffering a clear structural deficiency, not to mention the effect of ethnic and religious differences on the workings of these systems.
4. Several security studies have previously warned that ISIS would be active in Africa and South Asia following the allegations of its defeat in the Middle East.
5. ISIS is seeking to reproduce itself in areas of "weak security" through globally influential operations that have religious dimensions.
6. The country is undergoing a state of political instability as a result of competing over political positions, which led to a constitutional crisis at the end of last year. Such a situation has fostered the potential existence of major gaps in the security system. Specialized reports point out a sharp political polarization between conservative currents –which have been controlling the state since 2009– and reformist currents that are trying to change the status quo.
7. Some believe that following ISIS infiltration of the NJT and taking control of its decision-making joints, it has benefited from the infrastructure of military operations of the secessionist movement led by LTTE, which shares with other armed groups the goal of striking the national state structure and utilizing terrorism to create a state of political anarchy serving their interests.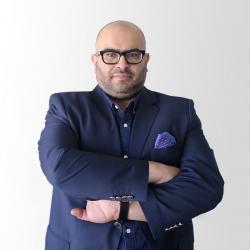 Hazem Salem Dmour
General Manager / Specialized Researcher in International Relations and Strategic Studies