From Jordan Begins the End of Syria's Isolation
There has been no clear international or regional attempt to deal with the Syrian crisis. Therefore a new strategy based on self-interest became necessary to bring everyone down back to reality and to break the ice that has been building up on the road to Damascus for ten years. And no other country in the region has the capabilities, qualifications, and advantages needed to take up this thorny task as Jordan does.
by Hasan Ismaik
Publisher – Annahar Alarabi
Release Date – Oct 11, 2021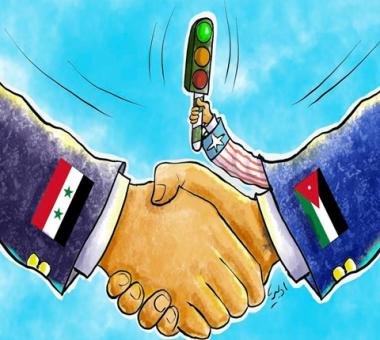 Since late 2018, there have been many changes in the Arab and international atmosphere in general regarding Syria and its government. The voices calling for regime change have died down, and there have been discussions about normalizing relations, or at least reopening communication channels with Damascus, in order to solve the Syrian crisis and end the war that has been raging for nearly a decade. In this regard, Abu Dhabi was the pioneer and the first to reopen its embassy in Damascus. Indeed, it was a brave decision to take this step, but it appears that international interventions and pressures have kept the path from progressing. Due to these pressures, we have not seen a subsequent development of economic relations, since communication was limited to humanitarian aid, generous support during the Corona crisis, and a few courteous official statements and tweets.
As a result, no clear international or regional efforts have been made to resolve the Syrian crisis. Therefore a new strategy based on self-interest became necessary to bring everyone down to reality and to break the ice that has been building up on the road to Damascus for ten years. And no other country in the region has the capabilities, qualifications, and advantages needed to tackle this thorny task as Jordan does.
On Sunday, October 3, 2021, King Abdullah II of Jordan received a phone call from Syrian President Bashar al-Assad. This was the first time the two leaders had spoken after a decade of tension caused by the Syrian war. This came as the culmination of a series of high-level talks and meetings and positive measures that contribute to building confidence between the two countries. The phone call was made just four days after Jordan reopened the Jaber-Nasib border crossing, which is a vital commercial link between the two countries. Less than a week earlier, Jordan and Syria had held talks on the sidelines of the United Nations General Assembly. In turn, the  meeting in New York came just four days after the Chairman of the Joint Chiefs of Staff of the Jordanian Armed Forces, Yousef Hunaiti met with Syrian Defense Minister Ali Ayoub in Amman on September 19 during the latter's two-day visit to Jordan.
In early September, Jordan hosted a quartet meeting where the Kingdom's minister of energy met with his Egyptian, Lebanese and Syrian counterparts to discuss the revival of the Arab Gas Pipeline. On the 27th of the same month, a Syrian delegation of senior officials consisting of the ministers for water resources, agriculture, electricity and the economy arrived in the Kingdom. They were received by a delegation from the Jordanian Ministry of Industry and Trade, led by Minister Maha Ali at the "Jaber" border crossing. Also in the same month, Jordan's state airline, Royal Jordanian, announced it would resume direct flights to Damascus.
When King Abdullah II and President Assad spoke this month for the first time in a decade, they discussed "means of enhancing cooperation for the benefit of the two countries and their people".  The Royal Hashemite Court stated that the two leaders talked about the "brotherly" relations between Jordan and Syria and "means of enhancing cooperation," and that King Abdullah reiterated "Jordan's support for efforts to safeguard Syria's sovereignty, stability, territorial integrity, and the unity of its people."
Assad and his regime could have been accommodated twenty years ago, when the Arabs were busy destroying Iraq. But now, he is in arms of Iran, and it is too late.
Jordanian-Syrian rapprochement sparked a storm of reactions, but none were official. Therefore, analysts and political researchers are studying its background and how it will affect future relations between the two countries, and thus the future of Syria's relations with its Arab neighbors and, eventually, the international community. Some of them may be right, while others are wrong, especially those who proclaim that accommodating the Syrian regime today has become impossible, and it is too late since it is now "in the arms of Iran"! Analysts are also looking into whether these Jordanian measures have an American green light, given that the cooperation between the two neighbors is primarily economic, thereby violating the Caesar Act, which imposes economic sanctions on the Syrian government and anyone who deals with it; or whether the United Staes is simply "turning a blind eye" to Jordan as an exception, given its economic conditions and the escalating crises exacerbated by factors such as the coronavirus pandemic, and the decline in Western and Arab support for it despite its hosting of large numbers of Syrian refugees.
I am not very inclined to the second scenario, because Jordan has expressed on many occasions its willingness to intervene and mediate in the Syrian issue. For example, Jordan announced, during a visit by King Abdullah II to Washington, D.C., in late July 2021, an initiative for dialogue between the actors in Syria and the government in Damascus, considering that pushing the dialogue forward in a coordinated manner is better than leaving things as they are now. According to Jordanian media, King Abdullah II's initiative aimed to ease American sanctions on Syria and bring Damascus back into the Arab system. They also pointed to deep Jordanian-Russian coordination.
A month later, on August 23, 2021, King Abdullah traveled to Moscow to meet with Russian President Vladimir Putin. The two leaders discussed the latest developments in Syria, and stressed the necessity of "reaching a political solution to the Syrian crisis that safeguards the territorial integrity and sovereignty of Syria, while guaranteeing the safe return of refugees," according to the official website of the Royal Hashemite Court. These indicators may mean that Russia is working to reduce Iran's influence in Syria, which might hinder progress towards a political settlement, while Jordan is seeking to remove Arab and American obstacles.
It appears therefore that these steps by Jordan are not limited and short-term, but are rather part of a broader strategy. Both cases, however, give cause for optimism, as even if it started as a special exception for Jordan, it will undoubtedly lead to broader steps involving more parties.  Jordan aims to benefit from cross-border trade by normalizing its relations with Syria in light of the economic difficulties many Jordanians are experiencing as a result of the severing relations with Syria.  In reality, though, Jordan is not the only winner from Syria's return to Arab diplomatic fold, as many other countries in the middle East stand to gain economically as well.  "For the regional economy to come back to life, Syria must take [back] its normal place within the Arab world," explained Dr. Joshua Landis, a Syria expert at the University of Oklahoma. "It is vital to the economic health of Jordan, Lebanon and Iraq as well as Egypt," he added. It is likely that many Arab countries will join the efforts to push Washington to lift its Caesar Act sanctions, and even if Biden's administration does not accept that today, it will inevitably do so in the future, especially if this issue begins to cause tension with its allies in the Arab region, who want to leave the past behind and turn over a new leaf with Damascus.
In addition to the positive change in attitudes towards Syria in the majority of Arab capitals, some European countries, including Greece, Italy, Spain, Romania and the Czech Republic, are looking at the possibility of reopening their embassies in Damascus. In my view, taking such steps depends on the development of Jordanian-Syrian relations, and on how the political regime reacts to this first stage of reviving them. Jordan will make many benefits through this openness, and Syria will also gain a golden opportunity to move forward, which we expect Damascus to deal with it with its usual pragmatic approach, primarily by reassuring Jordan, and the rest of the international community, about the Iranian infiltration on its border. With such an opportunity, the Syrian crisis can be resolved without resorting to large scale agreements. This is because normalizing relations with Jordan will open the door for Egypt, which will mean great political gains for Syria. Here, we should not forget the fact that the next Arab summit will be held in Algeria, which explicitly supports Syria's return to the Arab League.
The countries of the region are aware that most of the projects, especially the "New Levant Initiative" that includes Jordan, Egypt, Iraq, and Syria, would be worthless without Syria and Lebanon. Jordan, in particular, realizes the importance of playing an active role at this stage. Furthermore, Jordanian leadership is aware that the Syrian issue is as critical as the Arab-Israeli conflict, and that an effective involvement in this issue entails getting involved in most of the region's files. Moreover, Amman will have demonstrated its ability to act as a "mediator" capable of helping all parties out of their binds, and perhaps the next step should be holding peace talks with Syria through a Jordanian and Russian mediator. However, this requires a lot of political courage and flexibility from the Syrian side as well.  The next steps will not be easy, for the road ahead is rocky and difficult, nevertheless we remain optimistic that this Jordanian-Syrian rapprochement will result in coordinated efforts, and become the beginning of the hoped-for and expected solution to the Syrian crisis.
Jordan has many relative advantages that allowed it to take this significant step before others. However, many Arab countries, such as the UAE, Bahrain, and Oman, which reopened embassies in Damascus, as well as Egypt and Algeria are very interested in returning Syria back to the Arab fold. Therefore, they are making unrelenting efforts at the international level to bring viewpoints closer, and obtain exceptions from Caesar's Act that will allow them to deal with Syria without exposing their interests and institutions to the threat of US sanctions. As for the rest of the countries that have not yet decided, I encourage them to follow the lead of Jordan, and to open as many channels as possible to communicate with Damascus. This can start with simple steps, such as allowing their citizens to travel to Syria as tourists, which would be a good way to boost the Syrian economy.
Some Arab countries have played a role in exacerbating the situation in Syria, but today they can participate in resolving this crisis and relieving the suffering of the Syrian people.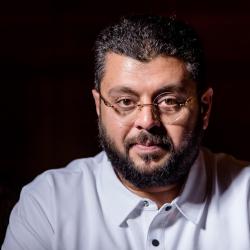 Hasan Ismaik
STRATEGIECS Chairman