Iran's attempts to mend relations with Jordan Messages and variables
The recent Iranian moves in the course of rapprochement with Jordan, call for the assumption that a remarkable development may be witnessed in these relations, driven by several variables and a conciliatory regional climate. Therefore, this paper discusses the motivations for reviving relations, as well as the challenges they face.
by Hazem Salem Dmour
Publisher – STRATEGIECS
Release Date – Oct 26, 2021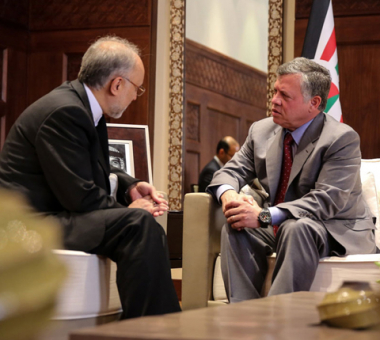 Editor's Note: On October 20, while this article was being prepared, a double attack was launched against Al-Tanf military base by drones and missiles. US officials announced that the United States holds Iran directly responsible for the attack.
Tehran recently attempted to revive relations with Amman through its foreign minister, Hossein Amir-Abdollahian, who spoke with his Jordanian counterpart, Ayman Safadi, on October 12 to discuss bilateral relations. According to a statement by the Iranian Foreign Ministry, the call held many messages.
In this telephone conversation, Amir-Abdollahian explained that "the Islamic Republic of Iran is in favor of friendly and brotherly relations based on mutual respect with re Abdollahian gional countries, and noted that Iran and Jordan should benefit from economic and trade opportunities of the region in order to improve bilateral relations."
He also "expressed Iran's support for regional dialog and cooperation away from foreign interference, and emphasized the expansion of cooperation among regional countries as a basis and driving force for further economic prosperity and stability in the region."
In addition the top Iranian diplomat expressed "support for the historic role of Jordan as custodian of the holy city of Jerusalem against the Zionist regime's efforts to exercise sovereignty over these places."
Amir-Abdollahian also reiterated "Iran's stance regarding a referendum to determine the fate of Palestine, with the participation of its original inhabitants to determine their destiny. He described as unacceptable imposed plans that ignore the rights of the Palestinian people and prolong the occupation."
What do these messages mean? Which variables played a role in their context? And In light of a possible convergence between the foreign policies of Jordan and Iran, what possible outcomes can be expected?
The first of these variables was the arrival of Democratic President Biden to the White House, and the end of former Republican President Trump's foreign policies, as well as the subsequent development of the nuclear negotiations between Iran and the United States, which are expected to lead to a similar agreement as the 2015 deal. As for Jordan, all regional actors have noticed the Trump administration's attempts to undercut the kingdom's geopolitical role, both at the security and diplomatic levels, and to treat Jordan as an accessory rather than as a real actor. However, Amman's "strategic patience" helped it overcome the difficult stage and restore dynamic relationships with Washington under Biden's democratic administration, and most importantly, activating the Defense Cooperation Agreement between the two countries last February.
This international variable constitutes a catalyst for the foreign policy of Jordan and Iran, as well as an opportunity for convergence of interests in regional spaces, and even an opportunity for Iran to communicate with the American administration through Amman.
The second variable is Jordan's leading role in Arab diplomatic efforts to get Syria back into the Arab League, with the coordination between Jordan and Russia on this issue, and the important steps of rapprochement between the two countries. Recently, a Syrian delegation, which included the ministers of economy and foreign trade, water resources, agriculture, and electricity, visited Amman for two days to discuss ways to boost cooperation between the two countries. Later, the Syrian Minister of Defense, General Ali Abdullah Ayoub, visited Amman, where he met with the chairman of the Joint Chiefs of Staff of Jordan, General Yousef Huneiti. The purpose of the meeting was "the prospects for developing cooperation between the two brotherly armies". Then came the decision to reopen the Jordanian-Syrian border (the Jaber crossing). Finally, King Abdullah II received a phone call from President Bashar Assad on Sunday, in which they discussed "the relations between the two brotherly countries and ways to enhance cooperation."
Combined with the first variable, this constitutes a crucial success for Jordan's foreign policy, as well as a significant "challenge" for Iran's foreign policy. It is a challenge that compels the latter to "reconsider" the future of its relations with Jordan, especially after the "parallel messages" sent by Jordan, now and in the past, including: The ones sent by King Abdullah II in his CNN interview at the end of July, in which he said that Iran-made drones had attacked Jordan during the past year, and that "it had been dealt with"; the King's clarification of his previous warning in 2004 of the danger of a "Shiite crescent", indicating that what is meant is a "political point of view", meaning removing/neutralizing the "factional/sectarian" nature from the region's conflicts and political disputes.
Diplomacy of careful balance
Over the past decade and a half, Jordan's diplomacy towards Iran has been based on not resorting to deep diplomatic engagement with Tehran without regional and international support, especially from Saudi Arabia, the UAE, and the United States. At the same time, Jordan was careful to bolster its relations with Syria, Iraq, and Lebanon in the context of Jordanian diplomacy that we can call "the diplomacy of careful balance". One aspect of this diplomacy was its support for the Iranian nuclear agreement and its rejection of any military intervention against Iran due to its nuclear program, despite the main issues of dispute with Iran, including relations with the United States, the peace process, and Iranian interference in Arab affairs, among others. In spite of these differences, Amman attempted to break the ice with Tehran. Therefore, , Nasser Judeh, the former Jordanian foreign minister, visited Tehran in March 2015 to suggest that President Hassan Rouhani initiate an Iranian-Arab dialogue on regional affairs, given the role Iran plays in the region. Nevertheless, this call fell on deaf ears with Iranian politicians at the time.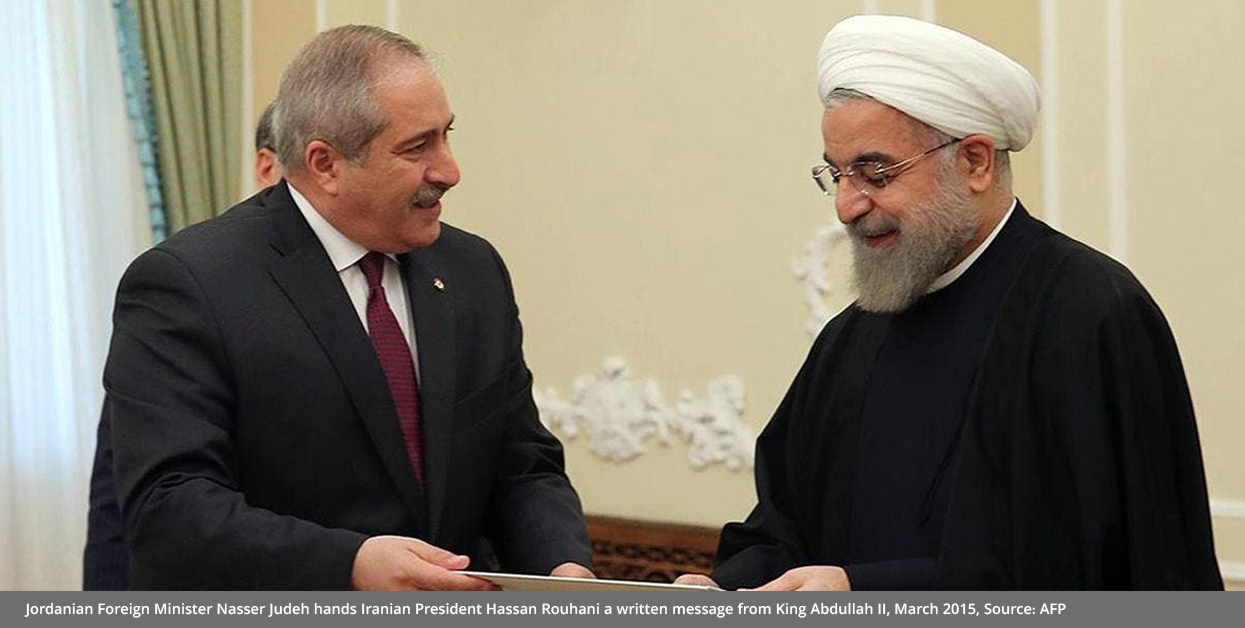 Jordan has also demonstrated its toughness on the domestic and foreign fronts, which makes the kingdom a model for political stability and crisis management in an ever-turbulent regional context. Therefore, it is understandable that Iran wants to rejuvenate bilateral relations. However, one should keep in mind that Iran is also concerned with two other dimensions of this alleged trend, which can be summed up to be as follows:
Iran's economic influence
From a geopolitical standpoint, Jordan is the closest country to Iran's spheres of influence, except Yemen, as it shares 181 kilometers of borders with Iraq, 375 kilometers with Syria, and thus with Lebanon. Therefore, Tehran does not want Jordan's economic relations with Baghdad and Cairo through the tripartite partnership projects to affect Iranian economic presence in the region. One of these projects involves exporting electricity from Egypt and Jordan to Iraq, which is suffering from prolonged electricity shortage crisis.
The developing Jordanian-Iraqi relations within the framework of bilateral or multilateral Arab relations that exclude Iran provokes Tehran and establishes a new diplomatic equation that allows for deeper economic ties between Iraq and its Arab neighbors. This induces Iran to make concessions in the region and to activate diplomatic mechanisms, rather than limiting the Arab role in Iraq.
The same situation can be seen in Syria. At the start of the 2011 crisis, Jordanian-Syrian relations were marked by a negative atmosphere. However, diplomatic relations were not severed, and the Syrian Embassy in Amman remained open, contrary to what happened in many Arab capitals. Today, Jordan is now leading Arab diplomatic efforts at the highest levels with the aim of returning Syria to its historical place as a regional hub, as well as through establishing economic projects like re-exporting electricity and gas from Egypt and Jordan through the Arab Gas Pipeline and the electrical interconnection network across Syria and Lebanon.
Jordan doesn't want Iran to gain regional influence under this new reality. Thus, in his phone call with his Iranian counterpart, Foreign Minister Ayman Safadi stated that "The Kingdom always works for dialogue and wants healthy regional relations based on the principle of good neighborliness and non-interference in internal affairs." In other words, all that Amman wants is to make Iranians understand that their current interactions, which have existed since 1979, are no longer viable and have harmed the region, its people, and its social and cultural structure, and perhaps hurt Iran itself and its international reputation as an intrusive state.
For Jordan, this can be replaced by Iranian economic and diplomatic relations with the countries in the region, without these relations taking on a security or sectarian character. This raises the question of whether Iran will accept this proposal in whole or in part. 
Military and security 
The US-Jordan defense agreement may be the most significant regional development this year. It is a guarantee that armed groups in Iraq and Syria, and those backed by Iran, will not engage in security activities in those areas due to the presence of US military forces. As a result, Jordan's trade routes with Iraq and Syria are somewhat safer. Then there are the current and future energy interconnection projects. Additionally, the agreement creates a "deterrent balance" against the Iranian forces in the Jordanian-Iraqi-Syrian border triangle.
Politically, the agreement, it could be used to exert military pressure on Iran; prevent the activity of sleeper armed cells; improve Jordanian border security; and reposition Jordan on the regional and international stage as a mediator, watchdog, and an actor in security and politics.
This redefinition occurred through the Russian response to Jordan's repeated demand that Shiite armed groups withdraw from the Jordanian borders as a prerequisite for reopening the borders. His Majesty King Abdullah II emphasized this during his visit to Moscow last August, taking into account the latent rivalry between Russia and Iran in Syria, as well as the unwillingness of Moscow to have armed organizations outside of the official military structure.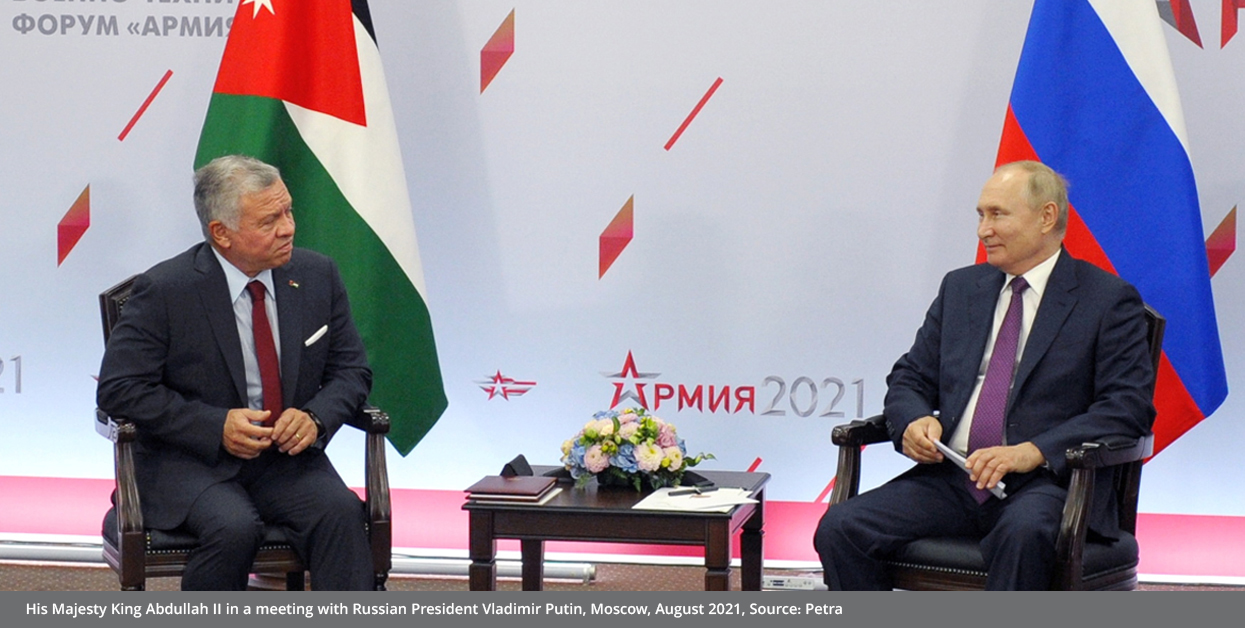 Jordan has evolved into a regional hub where the interests of two of the world's largest military powers are intertwined, particularly on the Syrian issue. Hence, Iran hopes that Syria will resume normal relations with the Arab states, at least to reduce the severe economic crisis suffered by its people, while Iran maintains its military presence.
In light of the above, it is too soon to expect surprises or progress in Iran's efforts to restore relations with Jordan. Whereas Jordan appears to be less "enthusiastic" and more "patient" than Iran. Amman has overcome many difficulties in the last decade, confirming that Jordan is an exceptional regional actor that cannot be overlooked at the geostrategic level if any country wishes to interact with this complex region.
Nevertheless, it should not be understood that Jordan is not interested in a relationship with Iran under strict terms. For instance, it is not in Jordan's security interest for Israel and Iran to escalate their military conflict, nor is it in the kingdom's interest for its regional partners to make long strides towards an understanding with Iran before it. Jordan recognizes the importance of diversifying its diplomatic options, particularly with key nations in the region such as Iran, in order to avoid the pressure of the relevant regional understanding with Iran on Jordanian foreign policy.
Political decision-makers in Jordan continue to take advantage of Jordan's geographical location with great political savvy. After a decade of instability, Jordan has reached a stage where it is attempting to transfer its economic activities, while simultaneously engaging in a diplomatic battle to protect these activities and achieve security deterrence in cooperation with its international allies, in light of a foreign policy based on the principle of good neighborliness and non-interference in the internal affairs of the countries of the region. This policy always seeks to maintain friendships with all nations of the world, while preserving the national interests and political principles of Jordan, and preserving its Arab and Islamic identity.
*On the cover: His Majesty King Abdullah II receiving Iranian Foreign Minister at the time Ali Akbar Salihi in May 2013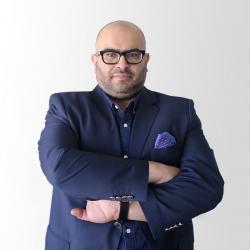 Hazem Salem Dmour
General Manager / Specialized Researcher in International Relations and Strategic Studies